So you've decided to make a trip to the San Juan Islands. Maybe you're checking off a bucket list item, or planning a romantic vacation, or simply want to relax somewhere with a view. Before you pack your bags and head out the door, you'll need to answer the critical question of physically getting there. Luckily for you, no matter what route you chose, you're in for a scenic treat. Here is our guide on getting to (and around) the San Juan Islands.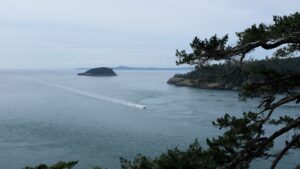 By Car
While you obviously can't drive to the islands, most people hop in the car to get to the ferry terminal. If you are driving from Seattle to the Anacortes Ferry Terminal, there are some beautiful routes and attractions to see on your way to the islands. After leaving Seattle, you can drive up I-5 until you hop off to Hwy 20-East for the most direct route, or you can involve a little adventure and sneak in an extra island to your itinerary. Add Whidbey Island to your trip by making a detour to Mukilteo and boarding the Mukilteo-Clinton ferry. On Whidbey Island you'll find scenic cuts of farmland framed by tall pines and views of the sea in all directions. Plan an overnight stay at Eagle's Nest Inn, a rustic retreat nestled in the quaint town of Langley. Spend the evening dining at one of the incredible restaurants and wake up to sea views and a gourmet breakfast. As you leave Whidbey Island, you'll cross over the iconic Deception Pass Bridge on your way to Anacortes. Take some time to hike down to the beach and watch the tide pass between the rocky, moss-covered cliffs. 
The Washington INNSiders boasts several independent properties around Whidbey Island. Explore our list of wonderful Island properties to find the ideal retreat for your getaway. 
By Ferry
You can drive onto the ferries with just about any car, truck, or RV, but prices vary depending on size. The ferry makes stops at Lopez Island, Shaw Island, Orcas Island and San Juan Island/ Friday Harbor. Simply pull up to the terminal 30 minutes before departure if you have a reservation or 90 minutes before for the first come first served queue, and you'll be directed on and off the ferry with ease. Once on the ferry, leave your car and wander around the decks as you won't want to miss this scenic route through the islands. If you want to reserve your spot on the ferry, you can do so in advance on the Washington State Ferry website. Reservations are highly recommended during the busier summer months, but can still be useful during the off-season. If you are starting your journey from the Olympic Peninsula, please note that the fastest route requires two ferries and the first leg from Port Townsend to Coupeville is often fully booked in advance so reservations are crucial.  The Kingston to Edmonds ferry is another good option. Prices from Anacortes include your round-trip cost to and from the Islands.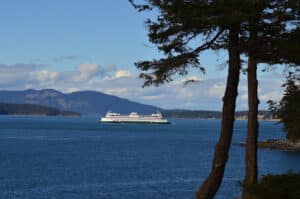 Walking, Biking & Motorcycling on the Ferry
Reservations are not required if you plan on either walking or riding on the ferry with your bicycle or motorcycle. You can even walk on with a small kayak! Prices include a general walk-on fee, but walking passengers can hop between islands for no extra costs making this one of the best deals to see all of the different islands. Park your car at the Anacortes Ferry Terminal and embrace the island life.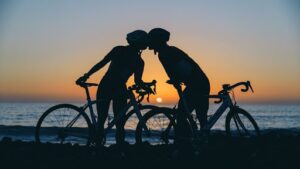 By Plane
Don't wait until you reach the island to start a tour, elevate your travel with a narrated sea plane ride from Seattle to the San Juan Islands. Get a birds-eye view and a flight of a lifetime though one of the several purveyors scheduling trips to and from the islands. Prices range from $75-$160 per person making this a great way to kick start your San Juan getaway. Spend more time exploring the islands as these flights only last 45 minutes to an hour.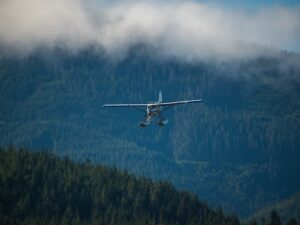 Getting Around the Islands
If you flew in on a seaplane or walked on a ferry, you may need to find a mode of transportation to get you around the island. Each island is a little different but offers a wide variety of transportation methods. 
Orcas Island: If you arrive at Orcas Island on foot and want to explore the island, a car is definitely the way to go. You can rent a car at the Orcas ferry terminal. In a typical island-style fashion, they'll leave the keys under a mat and let you be on your way. If you like road biking and gorgeous hilly terrain, you can pedal 8.5 miles to the colorful village of Eastsound. Grab a bite to eat and explore the town before finishing a 4 mile ride to your accommodations at Otters Pond B&B, right outside of Moran State Park. From this luxurious retreat, you can walk into the park and spend the day hiking the expansive trail network or bike into town for a little shopping R&R or live music. 
San Juan Island: As the ferry approaches Friday Harbor, you'll notice a quaint and walkable town that has everything you could ever want at your fingertips, even bicycle and moped shops to help you explore the rest of the island with ease. Rent your transportation mode of choice and cruise over to Roche Harbor for lunch, Lime Kiln State Park for a hike, or visit one of the several farms on the island while cruising in style. You can also cruise around the island on the bus or trolley and experience the most scenic transit of your life.
The Washington INNSiders boasts several independent properties on the San Juan Islands. Explore our extensive list of idyllic properties in the area to find the ideal retreat for your getaway.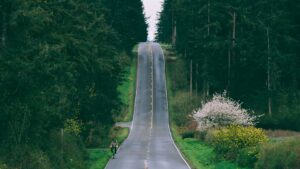 Whoever said 'It's not about the destination, it's about the journey' was most likely on a seaplane soaring over the San Juan Islands or on a clipper cruising past whales and sea cliffs. And that is true, until you reach the islands and you realize that the entire trip is the journey itself. Your journey to and from the islands is just as magical as your time spent on them. 
Take the scenic route to the San Juan Islands and let Washington INNSiders guide you to the perfect seaside B&B, luxurious island retreat, or rustic farm inn! While we have highlighted a couple of inns to accommodate you during your trip, the Washington INNSiders boasts an exhaustive list of independent inns all over Washington State so you can pick out the ideal B&B, inn, or hotel for your dream getaway.  All our member properties are inspected and approved so you are sure to find your perfect place to stay.