The Olympic Peninsula is one of those places you can visit over and over again and never run out of things to do. Maybe you've been there before and you're hoping to spice up the trip with a brand new experience. Or it might be your first time and you want to explore beyond the typical tourist spots and get off the beaten path. Grab your camera and adventure hat and find your way to these secretive spots on the Peninsula. You'll have experiences that go outside the box – and some good stories to tell when you get back home.
Port Angeles Underground Heritage Tour 
Head over to the legendary town on the sea, Port Angeles for an exciting exploration of the past. Take a time machine and travel over 100 years back to the year 1914 when the city decided to undertake a curious city planning move – elevating the streets. This decision created an entire underground world, connected by a series of tunnels. There were businesses and stores that people could reach that were entirely beneath the earth. The Port Angeles Underground Heritage Tour is a two-hour adventure full of interesting historical facts and true stories from that time. Learn about the history of this time period and place. Then go underground and explore some of the actual tunnels and buildings yourself. The Port Angeles Underground Heritage Tour will take you on a journey that gives you a taste of life in another century and living on another level. After going underground, finish your day with panoramic ocean and mountain views with a stay at the award-winning George Washington Inn & Estate. Walk through their lush lavender farm, read on the stunning oceanfront balcony, and enjoy a private spa bath at this charming B&B!
Natural Treasures in the Hoh Rainforest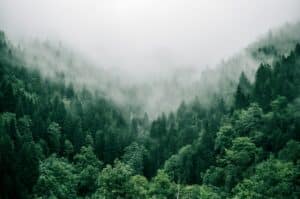 There's the silence we carve out for ourselves in our own homes, and then there's natural silence, difficult to find and rejuvenating when we do. One Square Inch of Silence is a noiseless piece of nature where you can find one of the most elusive experiences in our modern times – absolute quiet. Located in the Hoh Rain Forest of Olympic National Park, One Square Inch of Silence was created on Earth Day in 2005 and is run by an independent organization that is committed to researching noise pollution and protecting natural silence. Grab your hiking boots and start at the Visitor's Center above Mt. Tom Creek Meadows to get there. Keep an eye out because after about 3.2 miles on a beautiful wilderness trail you'll find the spot, marked by a red stone on top of a mossy log. 
Also living in the Hoh Rainforest is the uniquely beautiful Tree of Life, commonly known as The Runaway Tree, the Kalaloch Tree, and the Tree Root Cave. The Tree of Life is a large spruce tree located in Olympic National Park that is suspended in an odd way that seems to puzzle both scientists and passing tourists. How does it nourish itself to have such green leaves? Why hasn't it fallen yet? These questions and more keep everyone interested. It's center roots hang above thin air, while it's side roots hold onto side pieces of land, creating a bridge-like effect. Come sit and marvel at this beautiful feat of nature and meditate on the resilience, beauty, and wonder that is within all of nature. Right off of Highway 101, you can find the trailhead and in exchange for a short hike find your way over to this mysterious, magical tree. These are just a few of the natural treasures waiting to be discovered in the gorgeously lush Hoh Rainforest.  Find an inn close to the Tree of Life, One Square Inch of Silence and more in Olympic National Park!
Fort Worden's Abandoned Artillery Base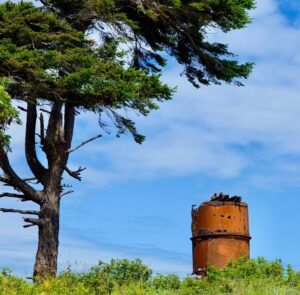 For a blast-from-the-past adventure, try heading over to Port Townsend to see the remarkable left over infrastructure from this old military base. Venture to Fort Worden Historical State Park to check out an amazing piece of war history created to protect the US from foreign enemies attacking by sea. You can fill a whole morning, afternoon, or even an entire day exploring the old roads, stairways, tunnels, barracks, bunkers, and restored Commanding Officer's house on this 433 acre artillery base. Of course you won't be finding any real guns, but you can see the pillboxes and gun emplacements and imagine what it would have been like to be defending the land back in the day. To learn more about the story of this base and the military activities, pop into the Puget Sound Coast Artillery Museum for your daily history lesson. An adventure full of excitement and history, this abandoned artillery base will be fun for all ages. After a day of exploring this little slice of history, secure a room with a view in a quiet neighborhood at Ravenscroft Inn, and enjoy the picturesque view of Townsend Bay and Mount Baker or Mount Rainier right from your bedroom. Contemplate the day's discoveries in one of their cozy wingback chairs in front of a large brick fireplace, read a book in their cozy library, or enjoy the breeze on their romantic veranda! 
---
Head to the Olympic Peninsula and check out some of the most interesting hidden attractions in the Pacific Northwest. Looking for that perfect place to stay while exploring? Washington INNSiders can help you choose the best fit.