Between Mt. Rainier National Park, North Cascades National Forest, and the Olympic National Park, Washington's Blue Mountains go peacefully undetected. These gorgeous rolling hills in southeastern Washington offer a little-known slice of paradise. You'll find four seasons of trails and views all around. Plan a trip and hike one of the state's best-kept hidden treasures.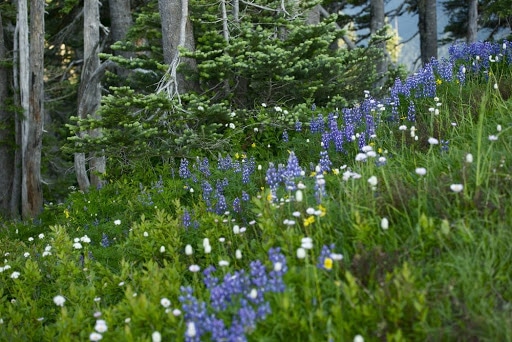 Stunning Summer Hikes
This 10-mile round trip hike in the Wenaha-Tucannon Wilderness has a little of everything. Start off your hike with a stream crossing before making your steady ascent up the mountain. Your thighs will be burning but the views all around will be more than worth it. Grassy meadows, wildflower fields, and frequent springs. Due to the higher elevation and ample shade, snow tends to stick around a bit longer than other hikes making summer the best time to complete this beautiful trek. This hike intersects other trails so you can make your own loop or simply enjoy the out-and-back route. 
On the hottest days of summer, head to Dexter Ridge. This infrequently visited trail is for the adventurous at heart hikers who want a little exploration in their hike. This is a favorite for wildlife spotting as it is extremely untouched by humans. Spot elk, birds, and small mammals in addition to the occasional bear print. You'll traverse along the top of Dexter Ridge before descending into the valley where you'll find multiple stream crossings to help you cool off. 
A Room With a View Bed & Breakfast is the perfect place to stay when visiting the Blue Mountains. This quiet and peaceful retreat is close to Walla Walla's South Side Wineries and offers expansive views of the surrounding farmland, rivers, and mountains. 
Amazing Autumn Hikes
Middle Point Ridge is one of the best day hikes from downtown Walla Walla. The trailhead is only an hour outside of town so you can enjoy a simple day hike with no work. During the summer, the western slope makes this a hot hike for a mid-day adventure but during the cooler fall months, the hike is perfectly pleasant. At the top of the ridge, you'll be able to see fall color in all directions. 
As one of the most beloved hikes in the Blue Mountains, the North Fork of the Walla Walla River is good on just about any day of the year. During the autumn, the river valley turns a lovely gold color with old-growth trees and a wide range of colorful bushes due to the water. The trail goes way back into the mountains but you can hike as much or as little as you like.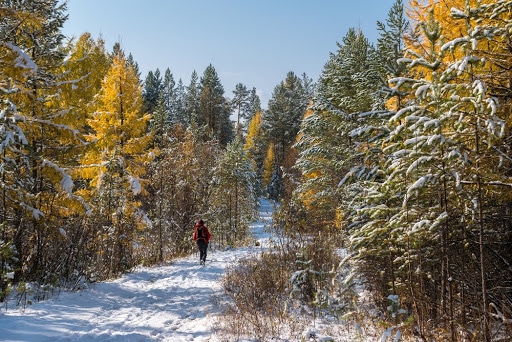 Wonderful Winter Hikes
Puffer Butte is one of the few hikes that is incredible any day of the year. In the winter, this hike transforms into a beautiful snowshoe trail with views of the snow-covered hills in all directions. At just over 4 miles round trip, this hike makes a perfect winter outing. The warming hut near the peak is a great place to take a breather and relax. 
Fire lookouts are becoming more and more popular to visit. With some of the best views and stunning vintage structures, they make for a very rewarding destination for a hike. Table Rock is a 1.2-mile roundtrip hike that leads you to the fire lookout perched on Columbia River Basalt. During the summer, this lookout is staffed with a firefighter but during the winter you can visit and explore on your own. 
Stay at Inn at Blackberry Creek during your next Walla Walla getaway. This rustic farmhouse in the heart of Walla Walla and offers a tranquil retreat with cozy-chic rooms, a library, and a darling patio during the summer or grand fireplace during the winter. 
Splendid Spring Hikes
When the days start getting longer and the temperature starts rising, hiking is usually one of the first things to come to mind. Packers Trail is usually one of the first to thaw and offers an incredible selection of spring wildflowers. Moore Flat, on the top of the ridge, was recently burned pretty severely by 2015 wildfires but the cleansing fire made way for lots of rare flowers. Spot enormous swaths of avalanche lilies, wild peonies, lupine, and hundreds of other species. At the top, you'll be able to see snow capped mountains in almost every direction and some of the best views of the Wallowa Range. 
Known for wildflowers and lush springs, Sawtooth Ridge is one of the best spring hikes in the area. This 4-mile one-way hike is surprisingly easy due to the slight elevation gain and turns it into an enjoyable stroll instead of a thigh-buster. Once you reach the ridge you'll have stunning views of the countryside and surrounding hills. TIP: If you hike in early spring, bring a pair of snowshoes as you'll likely find snow further in. 
Escape to Washington's Blue Mountains for four seasons of fun. After a long hike, relax with a well-deserved glass of wine and a stay at one of Walla Walla's incredible bed & breakfasts. With an energizing delicious breakfast from any one of these inns, you'll be ready to power up any hike. 
While we have highlighted a couple of Washington inns to accommodate you during your trip, the Washington INNSiders boasts an exhaustive list of independent inns right next to the Blue Mountains so you can pick out the ideal B&B, inn, or hotel for your dream getaway. All our member properties are inspected and approved so you are sure to find the perfect place to stay. Plan your getaway today!