Art is everywhere in Seattle. There is no shortage of alleyway murals, funky cafes adorned with local paintings, or art museums all around the city. It really is one of the most creative places in the world. There are several art museums showcasing modern contemporary art to classical paintings to cultural hubs that offer a unique look into the lives of people all across the globe. Take some time to explore the thriving art scene and experience some of Seattle's most acclaimed museums during your time here. 
The Seattle Art Museum is a must-see for any Seattle trip. Located in the heart of downtown, this museum has the largest collection of art in the state. Global art collections from around the world create a constantly changing atmosphere of glimpses into different artistic styles. You will find modern & contemporary art, native art from the Coastal Salish peoples, pottery and sculpture exhibitions, and historical paintings inside the doors. The Seattle Art Museum is also in charge of the Olympic Sculpture Park and the Asian Art Museum. Opening on February 8th, 2020 in the original Seattle Art Museum Building, the Asian Art Museum is one of the most anticipated openings in the art community. 
The Washington INNSiders boasts several independent properties around Seattle. Explore our list of wonderful properties all over the city to find the ideal urban retreat for your getaway. 
Step back into the nineteenth century with paintings and sculptures from the era. The museum first opened in 1952 with the private collection of Charles and Emma Frye. Their collection includes 232 paintings mostly from the nineteenth & early-twentieth centuries but the museum hosts a wide variety of exhibits in addition to the founding collection. After spending the day exploring the Frye Art Museum relax at The Gatewood Bed & Breakfast in West Seattle. This elegant B&B is close enough to downtown to visit all of the best museums but far enough to offer a peaceful setting. Sink into luxurious bliss in Seattle's idyllic west side. 
Located in the heart of the Ballard neighborhood, the National Nordic Museum pays homage to the cultures and traditions of the Nordic peoples. In addition to historical accounts of past life and educational exhibits, the museum boasts a collection of over 80,000 objects ranging from decorative artwork to archaeological finds. Explore the expansive collection of art that perfectly captures the cultures of the Nordic peoples.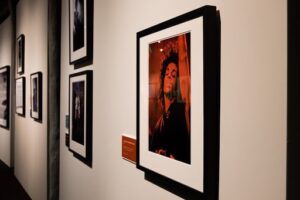 The Museum of Pop Culture, or MoPOP is more of an adventure than a passive viewing experience. This museum encourages you to immerse yourself in the exhibitions that encapsulate the media and culture that has created who we are today. From music to movie series to video games that have shaped generations, MoPOP takes a deeper look into how these pop culture phenomenons shape us and why we feel such a connection to them. Walk to the MoPOP museum from the Bacon Mansion on Capitol Hill. This historic B&B lies on a gorgeous street filled with Seattle's most impressive houses and mansions for a luxurious Seattle experience unlike any other.
Nestled on the prestigious University of Washington Campus, the Henry Art Gallery was the first public art museum in the state and continues to amaze onlookers with it's collection of contemporary art and risk-taking exhibitions that promote creative thinking. You can visit this museum Wednesday-Saturday for $10 per person or plan your trip on a Sunday for free admission. While on campus, make sure to check out the Burke Museum of Natural History and Culture. After a day of exploring museums and touring the historic neighborhoods in North Seattle retreat to the Greenlake Guest House, a top rated B&B across from Green Lake Park. This 1920's craftsman style bungalow is perfectly located so you can explore all of Seattle's most popular neighborhoods and attractions.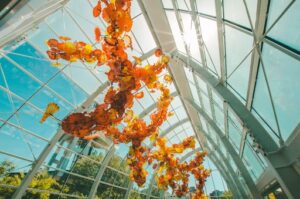 While every city in the world has their own art museum, none hold a match the intricate glass sculptures created by Dale Chihuly, a Washington native. You can find highly sought after pieces on display in museums across the world but until you step into Chihuly's garden, you haven't experienced his genius. At the base of the Space Needle you'll find a series of glass creations that resemble a garden filled with color and fascinating shapes that will captivate you. This museum is one of the most popular destinations in the city and is known to fill up fast. Plan your visit during a weekday to guarantee your visit and create a more intimate connection with the art. 
Rainy day? No problem! Just pop into one of these incredible museums and you'll be met with a world of color, culture, and contemporary art. In between museum visits, wander around the city to find small expressions of art around every corner. 
Explore Seattle's finest art museums and let Washington INNSiders guide you to the perfect urban retreat, luxurious bed & breakfast, or Capitol Hill mansion! While we have highlighted a couple of inns to accommodate you during your trip, the Washington INNSiders boasts an exhaustive list of independent inns all over Washington State so you can pick out the ideal B&B, inn, or hotel for your dream getaway.  All our member properties are inspected and approved so you are sure to find your perfect place to stay.