So, you've decided to elope! You've said 'nope' to a traditional wedding and decided to focus your day on your love. Now the biggest challenge is deciding where to start the rest of your lives. You could head to the coast and have the beach wedding you've always dreamed of, climb high above the clouds for a panoramic mountaintop wedding, or have an elegant event at a beautiful inn. Your options are suddenly limitless, but we've gathered up some of the most romantic elopement destinations in Washington State to help you find the perfect venue for your special day.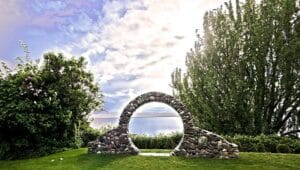 Peacefully tucked into the Puget Sound, Camano Island is a dreamy landscape that also happens to host one of the most romantic wedding venues in the state. The Camano Island Inn is a waterfront retreat on the western coast of the island. Their special elopement package includes an indoor or outdoor ceremony, two nights at the inn, a charcuterie board, a bottle of champagne, and up to 6 guests. Host your ceremony underneath the stone arch at sunset or inside their luxurious inn if the weather isn't cooperative. If your elopement suddenly grows to a small gathering or even a larger traditional wedding, the Camano Island Inn can accommodate you and your needs.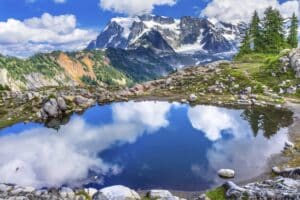 At the end of Highway 542, past the Mt. Baker Ski Resort lies Artist's Point, a popular hiking spot with scenic views of the rocky Cascade Mountains. There is no bad view from up here. Hike along a trail to find a serene meadow to host your ceremony, hike a mile or two to one of the glacial lakes, or simply say 'I Do' anywhere in the wilderness. You can have your outdoorsy, mountain elopement without having to hike a couple of miles, simply show up and your backdrop is ready for you! Bonus tip: During autumn, the moss and wildflowers cover the rocky terrain in a world of color. Elope with every color of the rainbow behind you.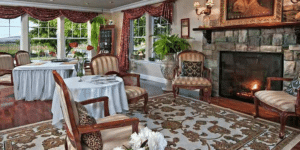 Nestled in Yakima Valley's wine country, the Cozy Rose Luxury Inn Bed & Breakfast is a hidden gem for wedding venues. In colder months or rainy days, host your intimate ceremony by the grand fireplace. During the summer and autumn seasons, use the gazebo as the backdrop to your elopement. Their simple yet elegant ceremony package includes the officiant, a bouquet for the bride and a boutonniere for the groom, 2 keepsake champagne glasses, and a cake. After your elopement, kick off your extravagant wine country honeymoon and tour all of the finest wineries, vineyards, and cellars around Yakima and Walla Walla.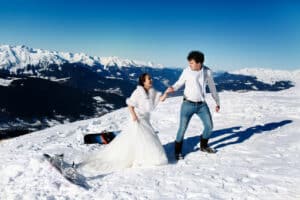 Dress – check. Suit – check. Rings – check. Ski goggles – check? If you want a fun and non-traditional wedding, try gathering your closest friends and family on the ski hill for a winter wedding that will be one for the books. Washington has a collection of Epic Ski Areas where you could elope in style. If you want a summer elopement, some of these resorts still run their lifts and you could get married on top of the world with some pretty cute wedding photos taken at the lodges.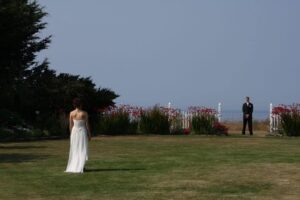 Steeped 130 feet above the ocean on a cliff with panoramic views lies Sea Cliff Gardens B&B, a beloved vacation destination for lovers looking to explore Olympic National Park together. Whether you want a personal ceremony with just the two or you, or a small wedding with a couple of close friends and family, Sea Cliff Gardens can accommodate you. Tie the knot with the ocean in the background and eagles flying above, in our old-growth cedar forests,  amidst our English perennial gardens, or with the Victorian Inn in the background. Pamper yourself before the ceremony with luxurious guest suites including fireplaces, jacuzzis, and plush amenities to help you get ready for your special day.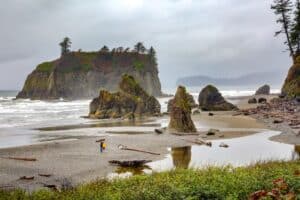 Who doesn't love a good beach wedding? Stunning photos, salty-sea air, and the sea breeze is the perfect romantic setting for an elopement. During the summer you'll find sunny blue sky days with colorful sunsets and during the winter you'll most likely find grey skies and mist, perfect for a Pacific Northwest elopement. Use one of the moss-covered rocks as your altar and build an aisle out of driftwood logs.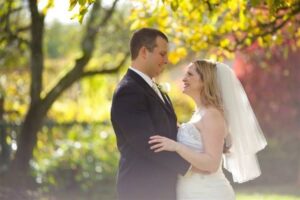 From destination elopements to the ultimate fairytale wedding, the Swantown Inn & Spa is one of the best wedding venues in Olympia. Choose from a garden wedding, an intimate candlelit affair, or a Victorian Ballroom ceremony. The elopement package includes the officiant, a small bouquet, a wedding cake, and a night in their luxurious Astoria room. Indulge with a two-person jacuzzi, plush bathrobes, a view of the gardens and Capitol building, and start your honeymoon off in style.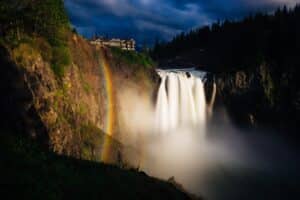 One of Washington State's most beloved gems, Snoqualmie Falls is one of the best elopement spots. This enormous, gushing waterfall has a large viewing deck or you can climb down to the base to host your ceremony during certain seasons. During the day, this waterfall is quite popular so a sunrise elopement would be ideal. Watch the soft light of the sun light up the trees and waterfall while you have these iconic landmarks all to yourself.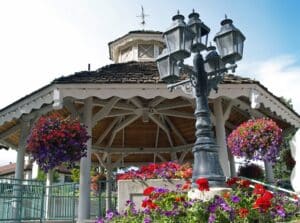 You don't have to travel all the way to the German Alps to have a picturesque Bavarian wedding. Nestled into a small valley in the heart of the Cascades lies Leavenworth, a popular destination for skiers, Oktoberfest, holiday celebrations, and all summer getaways. Host your ceremony in the heart of town at the traditional flower-adorned gazebo and ride away into the sunset in a horse-drawn carriage. If you are an outgoing couple looking for an out of the ordinary elopement, plan your day during one of Leavenworth's annual events and celebrate your new love with the entire town.
Start your life together at the Cascade Valley Inn, a romantic retreat just outside of Leavenworth. Wake up to a gourmet breakfast and vast mountain views and begin your honeymoon by exploring the great outdoors. Spend your days hiking, kayaking, biking, and dining before coming back to your romantic accommodations and kicking your feet up at the grand fireplace. 
Winter, spring, summer, or fall; no matter which season you decide to host your special day, you'll find the perfect venue to take your elopement to the next level. From picturesque Victorian inns to panoramic mountain tops, there is a venue for every couple. 
---