Valentine's Day is right around the corner and planning the perfect outing may be as simple as heading over to the picturesque Olympic Peninsula. For two weekends in February, you'll sip on velvety red wines and crisp ciders while nibbling artisanal chocolates from local artisans. Take part in the 2020 Red Wine, Cider & Chocolate Tour for a fun Valentine's Day getaway filled with your three favorite things; wine, chocolate, and of course your partner! 
Tour Dates
The two weekends surrounding Valentine's Day are going to be filled with deliciously smooth wines and decadent chocolates on the Olympic Peninsula. You can attend the first tour from February 8-9 or the second tour between February 15 & 17. Both weekends offer the same wineries, tastings, and chocolate pairings but allow you the flexibility to plan the perfect retreat. 
What do Tour Tickets Include?
For $40/person ($45 at the door) you are not only granted access to some of the finest and most renowned wineries on the Olympic Peninsula, but you'll receive a complimentary tasting and a chocolate themed pairing at each winery you visit. On top of that, tickets also include a souvenir wine glass to take home as a memento of your weekend. If you visit all 8 wineries and get your ticket stamped at each, you're entered into a drawing for a gift basket.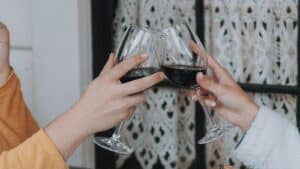 Participating Wineries & Cideries
The 8 wineries and cideries are located along the northeastern rim of the Olympic Peninsula with most hovering around the coastal towns of Port Angeles, Sequim, and Port Townsend. On each day of the event, wineries will be open from 11-5 to provide tastings and chocolate samples. While you should hit every location on the tour, you may want to save some extra time for these local favorites. 
Harbinger Winery in Port Angeles is right off Highway 101and is best known for their award-winning wines and cozy tasting room. While this tour is all about red wines, their award-winning chardonnay can't be missed. With notes of ripe apple, spicy lavender honey, and toasty vanilla, their Chardonnay is an incredible food wine. Their warm and inviting winery is in a renovated truck stop and will make you never want to leave.
Marrowstone Vineyards in Nordland has some of the most breathtaking views on the peninsula. This boutique winery overlooks the Puget Sound and Whidbey Island with the snow-capped Cascade Mountains in the background. 
Eaglemount Wine & Cider in Port Townsend boasts an incredible selection of ciders made with Washington State's finest produce. Sample the classic apple cider and venture into their unique flavor combinations like ginger-peach or their quince-based cider. On top of being cider experts, Eaglemount also produces some of the smoothest wines on the tour.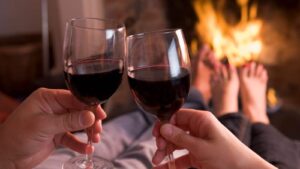 Where To Stay
Take advantage of the incredible inns and lodges on the peninsula and book yourself a romantic stay during the Red Wine, Cider & Chocolate Tour.
Old Consulate Inn in Port Townsend is a stunning Victorian-era B&B that provides old-world charm with modern amenities and comforts. Voted as one of the NY Times' 10 Favorite Hotels, it really is an experience like no other.
Lost Mountain Lodge is a quiet retreat just outside of Sequim. You can rent a suite or an entire cottage for an intimate romantic getaway. Return to this tranquil B&B after a long day of exploring and tasting the best of the peninsula, and sink into peaceful bliss. 
Eden by the Sea is a luxurious B&B overlooking the Strait of Juan De Fuca just outside of Port Angeles. Wake up to panoramic nature views, spend the day sipping your way through the tour, and return to the Grand Room to watch the sunset with a glass of your favorite wine from the day. 
Make this Valentine's Day the most romantic one yet with the Olympic Peninsula Red Wine, Cider, & Chocolate Tour. Visit some of the most incredible wineries in one of the most beautiful parts of the world. While in the area, take a trip to Olympic National Park, enjoy some of the finest farm-to-table fare, and fall even more in love with each other in the most romantic part of Washington.
Embark on the Red Wine, Cider and Chocolate Tour and let Washington INNSiders help you pick out the perfect B&B, inn, or hotel for your romantic Valentine's getaway!