Seattle isn't called the Emerald City without a good reason. Greenery is everywhere. Urban trails criss-cross all throughout the city, a nature park is never more than a couple of minutes away, and there are thousands of hikes just a couple hours away from the city center. If you want to experience the wild forests surrounding Seattle, here are 10 hikes you won't want to miss.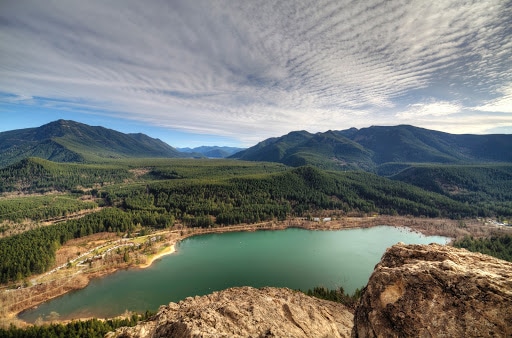 After two and a half miles and almost 1,500 feet of elevation gain, you'll see why Rattlesnake Ledge is one of the most popular hikes in the entire Pacific Northwest. You'll be rewarded with panoramic views of the Cascade Mountains and a birds-eye view of the turquoise Rattlesnake Lake below. If you want to tack on an extra challenge, trek over to the East Peak where you'll find fewer people and more wildlife plus a different angle on the lake. Watch kayakers paddle around the lake below and clouds pass above you on a sunny day. 
South of Seattle, near the small town of Black Diamond, lie remnants of a time gone by. Spend the day hiking through lush forests and gushing waterfalls to find abandoned railroad cars, large bridges, old buildings, and a spooky graveyard. From the late 1800s to the early 1900s, the town of Franklin was a thriving coal mining community, but today it exists simply for people to enjoy and explore at their leisure. This property is on private land and parking costs $5 per car.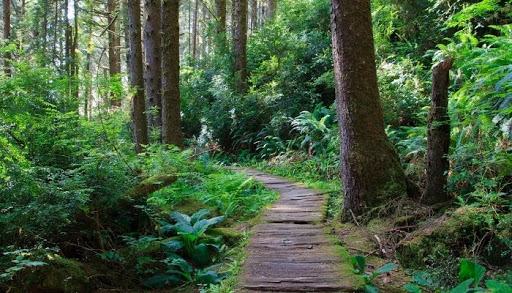 Nestled on Puget Sound just north of Tacoma lies one of Seattle's best-kept secrets. Sandy beaches and an extensive trail system make for a day of fun. You wouldn't know that you're just minutes from urban action. This is a great trail to hit at sunset as you can watch the sun dip below the Puget Sound waters and watch the forest come alive during golden hour. Wander around the trails as you please, or choose a specific track to follow.
Let Three Tree Point Bed & Breakfast be your basecamp for exploring all that Seattle has to offer. This upscale B&B is just half an hour away from Dash Point State Park and is close to several other bayfront parks, perfect for picnicking, biking, and hiking around the area. Return to your luxurious rooms after a long day, unwind in the hot tub, and watch the sunset over the Sound.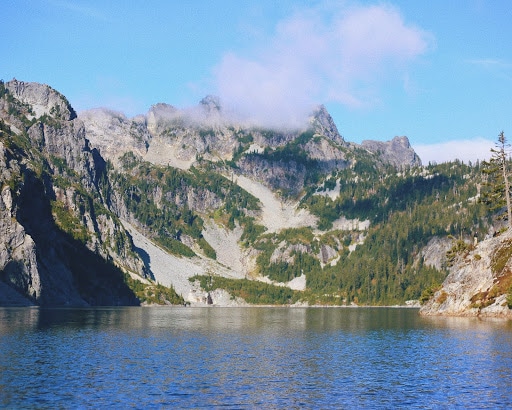 Snow Lake
6.4-mile out & back
Snoqualmie pass is dotted with serene alpine lakes and you could spend a lifetime exploring all of the hidden gems dispersed through the forest. If you only have a couple of days to explore the National Forests then put Snow Lake on the top of your list. A gradual trail takes you through thick wild forests and a number of waterfalls before dropping you at stunning Snow Lake. You can extend your hike to visit some of the other lakes in the area or sit back and take in the beauty of this alpine gem. 
Because of the deep timber and mining history of Washington, old railroads were built throughout Seattle and reached far into the Cascade Mountains. Up past Everett, just outside the small community of Granite Falls, lies an old Lime Kiln that is accessible through the old railroad path through the mountains. Artifacts from saws to cast iron stoves to old bricks have been found all over the trail. Walk along the river through groves of ferns and blackberries and the 20-foot tall, moss-covered lime kiln will appear almost camouflaged in the surroundings. 
Out near Duvall is a stunning double waterfall known as Cherry Creek Falls. This low-elevation hike is popular during the peak of summer as you can dip your toes in the cool pool after your hike and relax on a hot day. This trail runs through private property but the owners just ask that you are respectful of parking rules, are quiet, and keep pets on-leash so they can keep the trail open to the public. 
Stay at the Hideaway Lodge Bed & Breakfast in Woodinville and you'll be minutes away from hikes all over Eastern Seattle. Less than half an hour from Cherry Creek Falls and a quick trip over to other favorites make this the perfect getaway for outdoor explorers. Come back to your cozy accommodations and relax before hitting the town for the evening.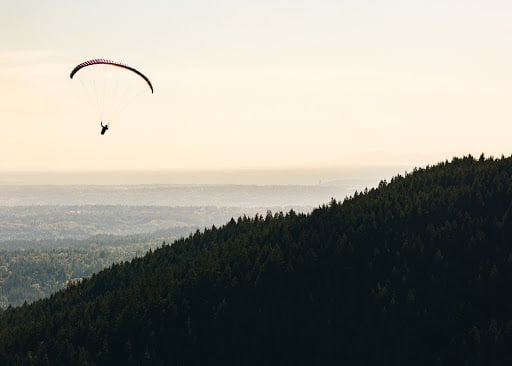 Don't let the name deter you. Poo Poo Point Trail just outside of Issaquah is one of the most rewarding hikes for a sunny summer's day. A winding trail will lead you up to the top of Tiger Mountain and let you look out over the mountains. In addition to seeing Mount Rainier in the distance and soaking up the sun on the grassy fields, this is the prime paragliding spot in Seattle. Watch as paragliders launch from the grassy fields and soar through the sky before you. 
Next to Tiger Mountain lies Cougar Mountain Regional Wildland Park, an urban protected park that has 69 different hiking trails. Whether you want to take a quick stroll with your pup or complete the trek to the top of Cougar Mountain, there is a trail for you. Due to the protected nature of the park, this is an excellent spot for birders looking for woodland species. Bring a pair of binoculars and keep an eye out for some of Washington's rarest birds. 
Nestled deep in the forests off the Mountain Loop Highway lies a serene lake that should be on everyone's bucket list. Lake 22 Trail is an alpine lake at the base of Mount Pilchuck and is one of the best hikes north of Seattle. While the trail is steep, a log and dirt staircase leads you most of the way through the woods to the lake where you can make a loop before descending back down. Get there early as parking is limited and fills up fast. 
Completing the 8-mile trek to the old town of Melmont near Mt. Rainier is no simple task, but that's what makes this hike so special. After the steep entrance to the trail, the path mellows out to an easy-going walk along the river. You'll see old cars, rusted through remnants, and crumbled foundations of this historic site. With the thick woods slowly breaking apart the town, you'll want to check this one out before the forest swallows it completely.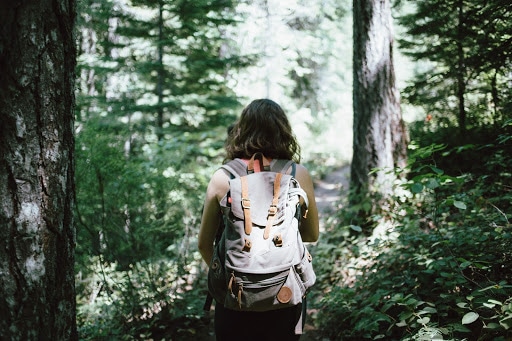 Before you toss on your hiking boots and speed off towards the trails, make sure that you have your Discover Pass ready to go. These day or annual passes grant users access to hikes all over the state of Washington and your funds go towards trail building, protecting wild areas, and servicing these beloved trails. A day pass costs $10 per car or you can pick up an annual pass for $30. You can grab yours online or at one of the 600 dealers across the state including grocery stores, sporting goods stores, forest service stations, and local businesses. 
Hit the trails around the Emerald City and let Washington INNSiders guide you to the perfect retreat, cozy bed & breakfast, or rustic country inn for your Seattle vacation! 
While we have highlighted a couple of Seattle inns to accommodate you during your trip, the Washington INNSiders boasts an exhaustive list of independent inns all over Seattle so you can pick out the ideal B&B, inn, or hotel for your dream getaway. All our member properties are inspected and approved so you are sure to find the perfect place to stay. Plan your getaway today!